Regulatory T cells and their role in rheumatic diseases: a potential target for novel therapeutic development
Pediatric Rheumatology
2008
6:20
Received: 09 May 2008
Accepted: 01 December 2008
Published: 01 December 2008
Abstract
Regulatory T cells have an important role in limiting immune reactions and are essential regulators of self-tolerance. Among them, CD4+CD25high regulatory T cells are the best-described subset. In this article, we summarize current knowledge on the phenotype, function, and development of CD4+CD25high regulatory T cells. We also review the literature on the role of these T cells in rheumatic diseases and discuss the potential for their use in immunotherapy.
Keywords
Systemic Lupus Erythematosus
Juvenile Idiopathic Arthritis
Systemic Lupus Erythematosus Patient
Rheumatic Disease
Kawasaki Disease
Introduction
Tolerance to "self" is a major immune regulatory mechanism that protects the body's own tissues from immune-mediated damages and restricts active immune responses to those against microbial invaders (Figure
1
). A classical type of tolerance, called central tolerance, is the mechanism by which "forbidden clones" of lymphocytes that recognize self antigens are eliminated in the thymus during normal lymphocyte development [
1
–
3
]. However, some lymphocyte clones with specificities for self antigens are found in animals and humans without autoimmunity [
4
–
8
]. In addition, autoimmunity can develop in the absence of defects in central tolerance. These findings initially led to the hypothesis that peripheral tolerancemust prevent auto-aggression by self-reactive T cells that escape thymic deletion. In the 1970s and 1980s, work on peripheral tolerance focused on characterization of specific suppressor T cells, the presumed regulators of immune responses in the periphery [
9
]. However, attempts to define and isolate suppressor T cells led to conflicting results, disappointment, and near abandonment of the field. With the development of new technologies in the 1990s, compelling evidence was put forward to support the existence of cellular subsets that possess immunosuppressive activities, this time under the name regulatory T cells[
10
].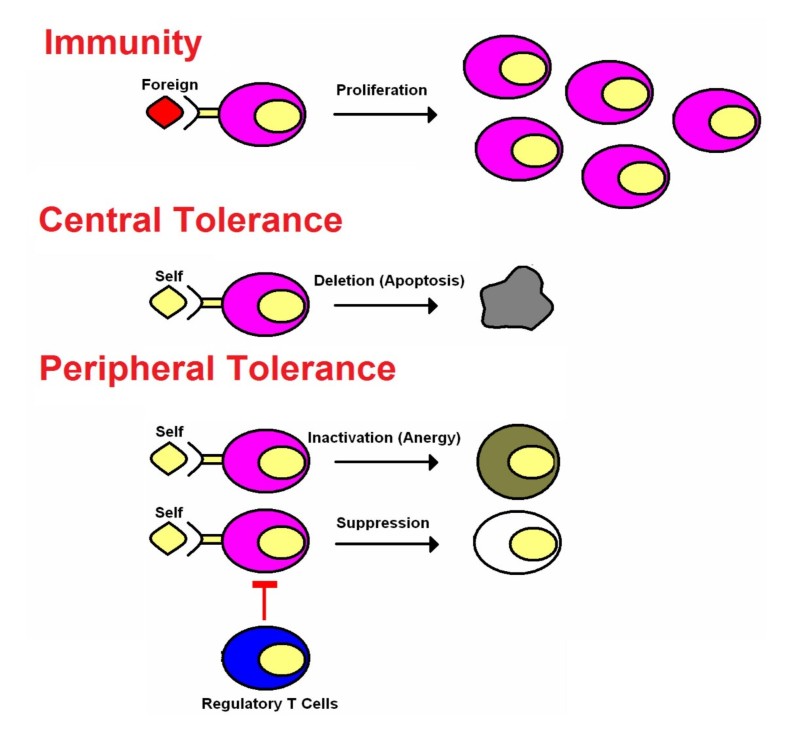 Declarations
Acknowledgements
This work is supported by the American College of Rheumatology REF award to Diana Milojevic.
Authors' Affiliations
(1)
Department of Pediatrics, UCSF, San Francisco, USA
(2)
Department of Pediatrics, Stanford University, Stanford, USA
Copyright
© Milojevic et al; licensee BioMed Central Ltd. 2008
This article is published under license to BioMed Central Ltd. This is an Open Access article distributed under the terms of the Creative Commons Attribution License (http://creativecommons.org/licenses/by/2.0), which permits unrestricted use, distribution, and reproduction in any medium, provided the original work is properly cited.