Exercise in children with joint hypermobility syndrome and knee pain: a randomised controlled trial comparing exercise into hypermobile versus neutral knee extension
Pediatric Rheumatology
2013
11:30
Received: 11 May 2013
Accepted: 8 August 2013
Published: 14 August 2013
Abstract
Background
Knee pain in children with Joint Hypermobility Syndrome (JHS) is traditionally managed with exercise, however the supporting evidence for this is scarce. No trial has previously examined whether exercising to neutral or into the hypermobile range affects outcomes. This study aimed to (i) determine if a physiotherapist-prescribed exercise programme focused on knee joint strength and control is effective in reducing knee pain in children with JHS compared to no treatment, and (ii) whether the range in which these exercises are performed affects outcomes.
Methods
A prospective, parallel-group, randomised controlled trial conducted in a tertiary hospital in Sydney, Australia compared an 8 week exercise programme performed into either the full hypermobile range or only to neutral knee extension, following a minimum 2 week baseline period without treatment. Randomisation was computer-generated, with allocation concealed by sequentially numbered opaque sealed envelopes. Knee pain was the primary outcome. Quality of life, thigh muscle strength, and function were also measured at (i) initial assessment, (ii) following the baseline period and (iii) post treatment. Assessors were blinded to the participants' treatment allocation and participants blinded to the difference in the treatments.
Results
Children with JHS and knee pain (n=26) aged 7-16 years were randomly assigned to the hypermobile (n=12) or neutral (n=14) treatment group. Significant improvements in child-reported maximal knee pain were found following treatment, regardless of group allocation with a mean 14.5 mm reduction on the visual analogue scale (95% CI 5.2 – 23.8 mm, p=0.003). Significant differences between treatment groups were noted for parent-reported overall psychosocial health (p=0.009), specifically self-esteem (p=0.034), mental health (p=0.001) and behaviour (p=0.019), in favour of exercising into the hypermobile range (n=11) compared to neutral only (n=14). Conversely, parent-reported overall physical health significantly favoured exercising only to neutral (p=0.037). No other differences were found between groups and no adverse events occurred.
Conclusions
Parents perceive improved child psychosocial health when children exercise into the hypermobile range, while exercising to neutral only is perceived to favour the child's physical health. A physiotherapist prescribed, supervised, individualised and progressed exercise programme effectively reduces knee pain in children with JHS.
Keywords
HypermobilityKnee painPhysiotherapyInterventionJoint hypermobility syndromeEhlers-Danlos syndromeExerciseRandomised controlled trialHyperextensionRange of motion
Background
Generalised joint hypermobility (GJH) is prevalent in 27.5% of girls and 10.6% of boys of mixed races in the United Kingdom [1] and is diagnosed when greater than normal physiological range of motion is evident in multiple joints. The prevalence of GJH in children varies across populations, due to differing methodologies and ethnicities, with rates varying from 12% of Turkish adolescents [2], 16% of Egyptian children [3], 28% of Chinese adolescents [4], 35% of Italian school-aged children [5] and 59% of Indian children [6]. While children with GJH can be asymptomatic [7], reports of musculoskeletal symptoms in hypermobile individuals are increasing [8] and children with GJH are at greater risk of developing chronic pain [9]. Knee pain is the most common musculoskeletal complaint in these children [8].
In the presence of chronic joint pain, or in conjunction with multi-system involvement of the skin, eyes, or cardiovascular system, hypermobile individuals meet the diagnosis of Joint Hypermobility Syndrome (JHS) using the Brighton criteria [10]. Children with JHS and pain have reduced physical activity and participation in functional childhood tasks such as helping round the home or riding a bike [11].
In conjunction with GJH, an individual with JHS may present with other signs and symptoms including recurrent joint dislocations or subluxations, chronic pain, marfanoid habitus, stretchy skin, varicose veins or organ prolapses. This condition can only be diagnosed following the exclusion of other known heritable connective tissue disorders [10]. Recently recognised as the same entity as Ehlers-Danlos Syndrome hypermobile type [12], JHS is now a better described condition. Current expert opinion is that physiotherapy should be the first line of treatment for knee pain in JHS [13].
At present, there is relatively little research evaluating the effectiveness of physiotherapy in reducing pain in hypermobile individuals. One cohort study [14] supports the efficacy of a lower limb closed-chain strengthening exercise programme progressed weekly in a pre-determined manner for adults with JHS, although the range in which these exercises were performed was not reported or monitored. Outcome measures of proprioception, balance, muscle strength, quality of life and pain perception all significantly improved following the single session with a physiotherapist and subsequent 8 week home-based exercise programme. This study suggests that a standardised time-contingent, progressive exercise programme undertaken with minimal supervision can assist in reducing knee pain in adults with JHS.
To date, one randomised controlled trial (RCT) has been published assessing the effectiveness of 4-6 weeks of individualised supervised physiotherapy sessions in the management of children with JHS [15]. This study compared a targeted exercise programme aimed at improving motion control of symptomatic joints through their entire range of motion with a general exercise programme including tasks such as step-ups and shuttle runs. In both groups, exercises were progressed as children gained competency in the skill. Both groups showed significant improvements in pain. No difference was found between the two programmes in reducing pain and improving function [15].
A problem for researchers trying to link intervention with theory is that the cause of joint pain in hypermobile individuals remains unknown [16]. Repetitive soft tissue microtrauma at the end of range is one possibility [17]. Recent studies of children with JHS reveal knee joint proprioceptive and muscle strength deficits [18] and reduced knee flexion throughout the gait cycle [19]. Weightbearing with knees hyperextended, together with reduced motion control arising from poor proprioceptive acuity, and reduced muscle strength and endurance to control this movement, may cause repetitive microtrauma and abnormal loading of the knee joint, resulting in knee pain.
In addressing these impairments, two paradigms for intervention may be implemented. The first involves avoiding exercise into the hypermobile range, to minimise repetitive end of range microtrauma. This paradigm views the hypermobile range as "abnormal" and implies that the patient should learn to avoid it in activities of daily living. The second paradigm regards the hypermobile range as "normal" for these patients. While biomechanically disadvantageous, this is the range in which hypermobile patients function during daily activities such as walking, and consequently where the most stability and control is required. Hence intervention should include strengthening and motion control within this hypermobile range.
While the evidence base for the role of physiotherapy in JHS management remains limited, current expert opinion recommends physiotherapy to improve dynamic stability of hypermobile joints [20] suggesting exercises should be performed into the full hypermobile range [21]. Previous reports in the literature did not state a specific range in which to exercise [14], but actively limited patients moving hypermobile joints into end of range [22]. No published evidence supports the hypothesis that exercises should be performed into the full hypermobile range.
Therefore, the present study aimed to determine if a supervised, individualised and competency-based progressive physiotherapy programme focused on improving strength and control around the knee joint is effective in reducing knee pain in hypermobile children, and whether these exercises are more, equivalently, or less effective when performed into knee hyperextension range, compared to performing them only to neutral knee extension.
Results
Twenty nine children were recruited for the trial, with 4 drop-outs (Figure
2
), including 1 patient excluded following bone densitometry results and further medical assessment resulting in a provisional diagnosis of Osteogenesis Imperfecta. Twenty-five children were then randomly allocated to receiving physiotherapy treatment exercising in either the hypermobile range or only to neutral knee extension. The trial stopped when ethical approval ceased at 5 years. No adverse events, defined as joint injuries including dislocations and subluxations, were reported in either treatment group.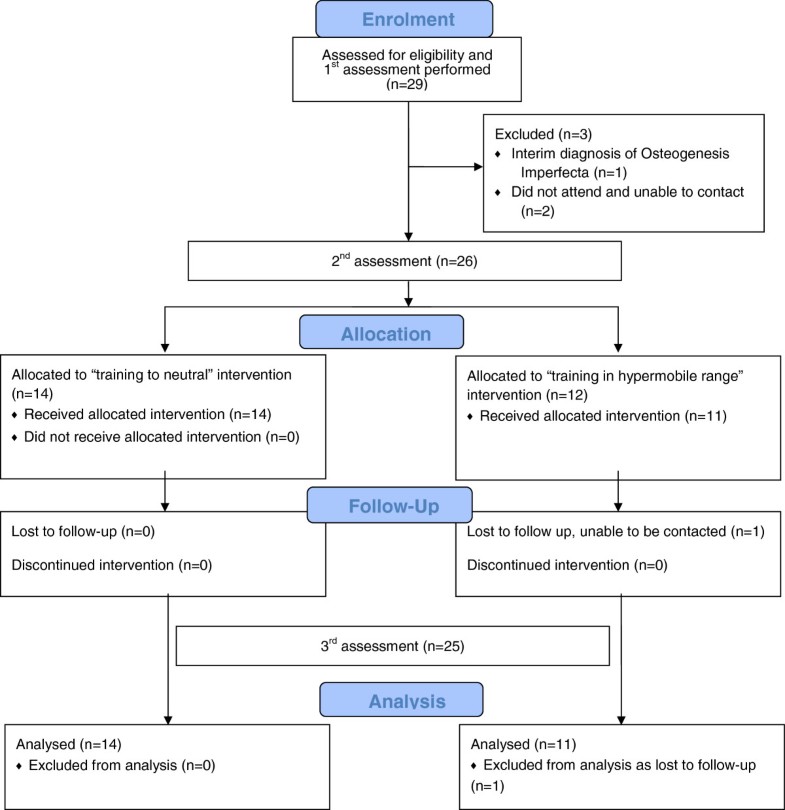 Discussion
Joint pain is the most common complaint in children with JHS [8] and pain severity was therefore chosen as the primary outcome measure in this trial. Large effect sizes and statistically significant differences were found following the exercise period. Child reported mean knee pain decreased by 36%, maximum knee pain decreased by 32%, and parent-reported bodily pain improved by 37%. A 30% improvement in pain scores is considered clinically significant in other rheumatological conditions [41] and these improvements are similar to those found previously when assessing the efficacy of exercise for children with JHS [15]. As the treatment was provided to children and adolescents of both genders across ages 7-16 years, the results suggest that this programme may provide similar pain reductions in pain intensity for other children and adolescents with JHS and knee pain seen within the Australian healthcare setting. To provide a more comprehensive understanding of the impact of physiotherapy based interventions on the child's overall pain experience, future research should also assess pain frequency and duration.
As knee hyperextension may result in infrapatellar fat pad, or anterior capsule impingement eliciting pain, it is possible that the children exercising to full hyperextension may have had greater difficulties performing the exercise programme pain-free. Consequently, those patients who actively limited exercises to neutral knee extension only may have gained greater physical benefits from the exercise programme over the 8-week period. It may be appropriate when managing these patients to exercise first to neutral knee extension until symptoms settle, before challenging their motion control in the hyperextension range. Given the physical benefits of an exercise to neutral paradigm and the psychosocial benefits of an exercise into hypermobile exercise paradigm, we propose that clinicians begin with the neutral, and progress to the hypermobile range, to achieve a more holistic outcome. This graded approach to exercise in JHS has been previously proposed by a group of expert therapists [42]. Rate of exercise progression and use of analgesia was not measured within this study, but would be worthwhile to consider in future research.
Considering the overall improvement when results of the two training groups were combined, moderate effect sizes were demonstrated in all other statistically significant findings. The effect sizes observed here suggests that studies with larger sample sizes would be worthwhile.
Parent ratings of a child's behaviour, self-esteem and mental health are important indicators of their perception of their child's psychosocial wellbeing. These measures were specifically influenced by an exercise program that took the child's limbs into hypermobile range, over and above the general effects of exercise shared by both groups. The improvements seen in these domains were not only significantly different between groups, but also demonstrated that exercising into the hypermobile range significantly improved self-esteem and mental health levels to equal that of Australian normative values [34]. The reason for this finding may be due to a shift in parental perception of their child's condition contingent on them exercising into hypermobile range. Children and parents were only aware that two different exercise programmes were being studied and were blinded to the range differences. Having the physiotherapist encourage movement within the hypermobile range may have "normalised" the parent's perception of their child's everyday movements that they previously considered unusual and undesirable. The consequent impact on perception of their hypermobility may explain improvements in these psychosocial measures. In light of the known incidence of anxiety disorders with the adult JHS population [43], further research on the mechanism behind this finding is warranted, with the inference that measurement of the child's own perception of their self-esteem and mental health would be worthwhile.
In contrast to the improvements in psychosocial measures, overall parent-rated physical function improvements favoured those children exercising to only neutral knee extension. Despite strict randomisation, the neutral training group were significantly younger, contrasting to the known effect of strength trainability increasing linearly with age [44]. However, this result may have been due to a ceiling effect, as despite strict randomisation, the group exercising to neutral knee extension had significantly lower physical summary scores at baseline, while final summary scores for each group were similar. Future research with larger study samples would provide definitive results as to whether limiting exercises only to the neutral range does result in measurable differences in physical function outcome.
The CHAQ showed minimal effect from the training intervention and this may be due to the global nature of the questionnaire. Questions included those related to fine motor function and daily activities such as eating and dressing which would not be expected to change when undertaking an exercise programme aimed only at knee joint function. This provides important methodological considerations for future studies in this patient population as the use of a functional measure for children more specific to the knee joint might have been more sensitive to change. Recently, the Knee Injury and Osteoarthritis Outcome score has been modified for children (KOOS-Child) [45] and the Modified International Knee Documentation Committee Subjective Knee Form has demonstrated acceptable psychometric properties for use in children with a variety of knee disorders (Pedi-IKDC) [46]. The use of one of these new measures is likely to be more appropriate in this population.
Similarly, no significant changes were seen in the child's ability to climb flights of stairs in 2 minutes, most likely as a result of a ceiling effect. Each flight consisted of 12 stairs and even when running, no greater than 25 flights was ever achieved in the 2 minutes allowed. This provided minimal opportunity for improvement in many of the participants.
Significant moderate sized improvements in muscle strength resulted from training regardless of group allocation. As expected, as both training groups were exercising to the same intensity and duration, no differences were evident between groups.
Knee joint proprioception has previously been shown to be reduced in children with JHS [18] and exercise programmes in adults with JHS have demonstrated improvements in proprioception as a result of exercise training [14]. The inclusion of knee joint proprioception as an outcome measure for this study may have provided further insight into the mechanisms by which pain intensity and function gained improvements.
No significant differences were found during the baseline period with the exception of parent-reported role limitations in emotion and behaviour and hence the psychosocial summary score. We hypothesise that the improvement in the child's behaviour may have occurred as a result of enrolment into the trial. The first assessment occurred at this point and children met with a specialist in the area who acknowledged their symptoms and hypermobility as the cause of it, and provided reassurance that physiotherapy would help to improve their pain. Within this cohort, 83% of the children were previously unknown to the multidisciplinary hypermobility service at our centre. Despite all children having GJH and significant knee pain (mean 39.4/100 on the VAS over the previous week), these children had not previously been recognised as having JHS. Delayed diagnosis of this condition has previously been reported in the literature [8] and this delay may contribute to provision of less than optimal management [47].
A multi-system disorder, JHS has significant adverse impacts on the affected child and their family's daily functioning. Adib et al [8] reported 41% of children with JHS miss important periods of schooling and 67% experience limitations in their physical activities as a result of their symptoms. Children with JHS and knee pain also experience significantly reduced quality of life compared to their healthy peers [48]. There is therefore a critical need for empirically-based evidence to guide the management of this condition.
The present study is the first RCT comparing the effectiveness of performing individualised and progressive exercises either to neutral or into the full hypermobile range of motion for individuals with symptomatic hypermobility, and the second RCT on the effectiveness of physiotherapy management for children with JHS. It provides further evidence to support the use of physiotherapy management, however because no long term follow-up was undertaken within this study, it remains unknown if the effect of the intervention washes out. The impact of this intervention on medication use and participation in daily activities such as school attendance and physical activities also warrants further investigation.
Conclusions
This study has demonstrated that a physiotherapist-supervised exercise programme is significantly effective in reducing pain, improving health-related quality of life, and increasing muscle strength in children with JHS and knee pain. In addition, these exercises were found to be more effective in improving the child's self-esteem, mental health and behaviour when performed into the full hypermobile range rather than when performed only to neutral knee extension. Conversely, parent-reported overall physical health significantly favoured exercising only to neutral extension.
Abbreviations
JHS:

Joint hypermobility syndrome
GJH:

Generalised joint hypermobility
RCT:

Randomised controlled trial
VAS:

Visual analogue scale
PGIC:

Patients' global impression of change
CHAQ:

Child health assessment questionnaire
CHQ:

Child health questionnaire.
Declarations
Acknowledgements
We would like to thank the children and their families who participated in this study, the specialists who assisted in the recruitment, and the physiotherapists of The Children's Hospital at Westmead outpatient team who assisted in the treatment of these children. This study was supported by a grant from The Children's Hospital at Westmead Nursing and Allied Health Research Committee and a grant from the Connected Foundation, funding patient parking and additional physiotherapy sessions. VP is supported by The Menzies Foundation Sir Robert Menzies Memorial Research Scholarship in the Allied Health Sciences.
Authors' Affiliations
(1)
Physiotherapy Department, The Children's Hospital at Westmead, Sydney, Australia
(2)
Kids Rehab, The Children's Hospital at Westmead, Sydney, Australia
(3)
Department of Endocrinology, The Children's Hospital at Westmead, Sydney, Australia
(4)
Discipline of Biomedical Sciences, The University of Sydney, Sydney, Australia
(5)
Discipline of Pediatrics and Child Health, The University of Sydney, Sydney, Australia
(6)
Discipline of Physiotherapy, The University of Sydney, Sydney, Australia
Copyright
© Pacey et al.; licensee BioMed Central Ltd. 2013
This article is published under license to BioMed Central Ltd. This is an Open Access article distributed under the terms of the Creative Commons Attribution License (http://creativecommons.org/licenses/by/2.0), which permits unrestricted use, distribution, and reproduction in any medium, provided the original work is properly cited.