Psychosocial perspectives in the treatment of pediatric chronic pain
Pediatric Rheumatology
2012
10:15
Received: 8 March 2012
Accepted: 7 June 2012
Published: 7 June 2012
Abstract
Chronic pain in children and adolescents is associated with major disruption to developmental experiences crucial to personal adjustment, quality of life, academic, vocational and social success. Caring for these patients involves understanding cognitive, affective, social and family dynamic factors associated with persistent pain syndromes. Evaluation and treatment necessitate a comprehensive multimodal approach including psychological and behavioral interventions that maximize return to more developmentally appropriate physical, academic and social activities. This article will provide an overview of major psychosocial factors impacting on pediatric pain and disability, propose an explanatory model for conceptualizing the development and maintenance of pain and functional disability in medically difficult-to-explain pain syndromes, and review representative evidence-based cognitive behavioral and systemic treatment approaches for improving functioning in this pediatric population.
Keywords
Chronic painChildrenAdolescentsPsychosocialCognitive behavioral therapy
Review
Background
It has been estimated that fifteen to thirty percent of children and adolescents experience chronic pain, with prevalence increasing with age and occurring slightly more commonly in girls than boys [1, 2]. Pain is considered a chronic condition when it has persisted for at least three months, moving beyond simple tissue damage (nociceptive) to subsequent changes within the peripheral and central nervous systems (neuropathic). The experience of chronic pain is also impacted by psychosocial factors (stress, negative affective states, family response, etc.) in addition to these biological factors [3]. The most commonly reported locations of pain in children and adolescents are the head, stomach, arms and legs. The most common chronic pain conditions in children include migraine, recurrent abdominal pain, and general musculoskeletal pain [2]. Symptoms of pediatric chronic pain can be severe and disabling, impairing the daily functioning of children and having an adverse impact on their families. Therefore, it is paramount that these chronic conditions be accurately assessed and treated in order to improve functioning and prevent long-term sequelae and deviation from a normal developmental trajectory [3, 4].
There are a wide variety of medically difficult-to-explain chronic painful conditions that present in the pediatric population, which are often referred to as medically unexplained syndromes (MUS) [
5
]. These include such conditions as juvenile fibromyalgia syndrome (JFMS), chronic fatigue syndrome (CFS), widespread pain syndrome (WPS), chronic pelvic pain, irritable bowel syndrome (IBS), recurrent abdominal pain (RAP), tension headaches, noncardiac chest pain, complex regional pain syndrome (CRPS), reflex sympathetic dystrophy (RSD), and postural orthostatic tachycardia syndrome (POTS), among others. Central to these conditions is a wide discrepancy in the actual tissue damage sustained by a patient, the perceived severity of the condition, and the degree of disability exhibited. Alternatively, patients with more clearly delineated medical disorders, e.g., childhood leukemias (e.g., ALL, AML), juvenile rheumatoid arthritis (JRA), sickle cell disease (SCD), systemic lupus erythematosus (SLE), to mention some of the major illnesses, often experience limitations in their daily functioning due to the effects of debilitating pain and accompanying fatigue and/or the side effects of treatment. Lastly, there are those painful pediatric conditions which do not fall neatly on either end of the continuum with regard to how well an organic explanation fits the patient's reported level of pain or disability, e.g., certain headache variants, costochondritis, Ehlers-Danlos syndrome, Tietze syndrome, to give some examples (see Figure
1
). The current review will focus primarily on psychosocial approaches to the treatment of the medically difficult-to-explain chronic painful conditions.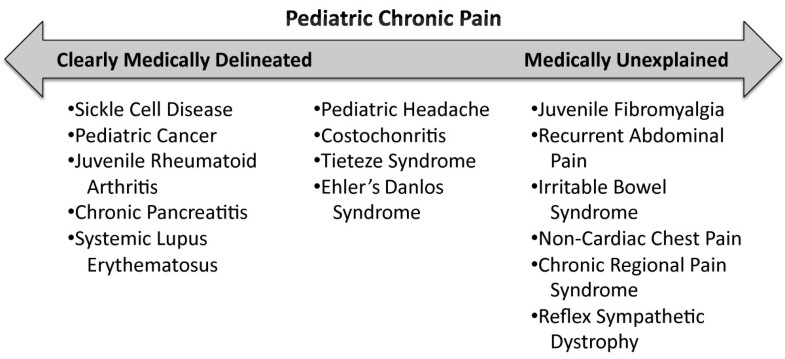 In medically unexplained pain syndromes (MUS) it has been suggested that the pain, fatigue, and functional limitations associated with these conditions may be due, at least in part, to abnormalities in centrally-mediated processing functions rather than damage or inflammation of peripheral structures [5]. Neuroanatomically, the hypothalamic-pituitary-adrenal (HPA) axis is often implicated in this process. This dysregulation, which may be triggered by infection, injury or intense physical or psychological stress, results in a malfunction of the central mechanisms that regulate pain, energy, sleep, concentration, memory, etc. [6]. More specifically, increased neural activity in the posterior insula region of the brain has been implicated as at least a component of the sensory amplification seen in these patients [7]. Other central nervous system mechanisms that may be involved in the generation and maintenance of chronic pain include loss of descending analgesic activity and central sensitization, diminished activity of the descending serotonergic-noradrenergic system, and increased activity of endogenous opioidergic systems [7]. Behaviorally, evidence suggests that pain and fatigue can become classically conditioned to (associated with) certain stimuli in the environment, resulting in functional limitations when the individual is confronted with these stimuli. A number of functional imaging studies have demonstrated increased neural activity in brain structures involved in the processing of sensation, movement, cognition and emotion in patients with these conditions, as compared to healthy controls experiencing the same stimuli [8].
Patients with these conditions often experience considerable skepticism and avoidance by health care providers due, in part, to the difficulty in assigning an accurate diagnosis. On the other hand, for the treating physician the patient's clinical presentation may be frustrating due to the absence of a clear cut etiological explanation, inconclusive investigative tests, and lack of well validated medical treatments. This can lead the physician to ascribe the patient's symptoms primarily to psychological factors. However, referral to a child psychologist or psychiatrist is often met with defensiveness and even anger on the part of the patient and/or family, who continue to place a high value on finding a specific and readily remediable physical explanation. In such circumstances the patient continues to experience a lowered quality of life with reduced functioning in multiple arenas critical to optimal development. This prolonged frustration of seeking a clear medical explanation and treatment approach may further contribute to symptom exacerbation and feelings of hopelessness. This can set into motion an increased interdependency on parents and caregivers and reduced demands on the patient, that may establish a level of adaptation below the patient's premorbid baseline level. Secondary gain associated with the sick role and reduced physical activity leading to deconditioning produces further disability [9].
Psychosocial factors in pediatric pain
A biopsychosocial conceptualization of chronic pain posits a conceptual shift away from attempting to differentiate physical from mental or emotional pain. This model acknowledges the multidimensional nature of pain in which biological, psychological, individual, social and environmental variables are interactive in the development, maintenance, and subjective experience of pain and disability [10–15].
A proposed dynamic-interactive explanatory model underlying this process is presented in Figure
2
. This model postulates that individuals who develop these conditions may have
Predisposing Factors
or vulnerabilities which, when combined with overt or covert
Trigger Events
(viral illness, psychological stress), result in an initial
Illness
with associated
Somatic Symptoms
including
Pain and/or Fatigue and Sleep Disturbance
. This may lead to the patient engaging in
Avoidance
of activity as a primary
Coping Style
,
Somatization
(increased vigilance to physical symptoms) and
Attribution
of the illness primarily toward events outside their control, i.e.,
External Locus of Control
. Influenced by additional events such as
Family Factors
(overprotection, triangulation),
Social Milieu
and
Stressor
factors (peer relationship issues),
Other Medical Illness
(low grade infections, pain/fatigue exacerbations), and
Psychological Events
(catastrophizing cognitions), the patient may engage in further
Withdrawal
, leading to
Deconditioning
and snowballing
Increasing Attributions
that their illness/debilitation is due solely to a unitary disease process for which there is a unitary passive treatment (medication, surgery, etc.). The final pathological outcome is a patient who experiences increasing social
Isolation
, increased
Functional Disability
,
Enmeshment
with their primary caregivers, and additional
Biological Epiphenomena
and
High Healthcare Use
that further reinforce a somatic focus and an emphasis on finding a unitary medical "cure." The following section will address the findings of investigations supporting components of this explanatory model.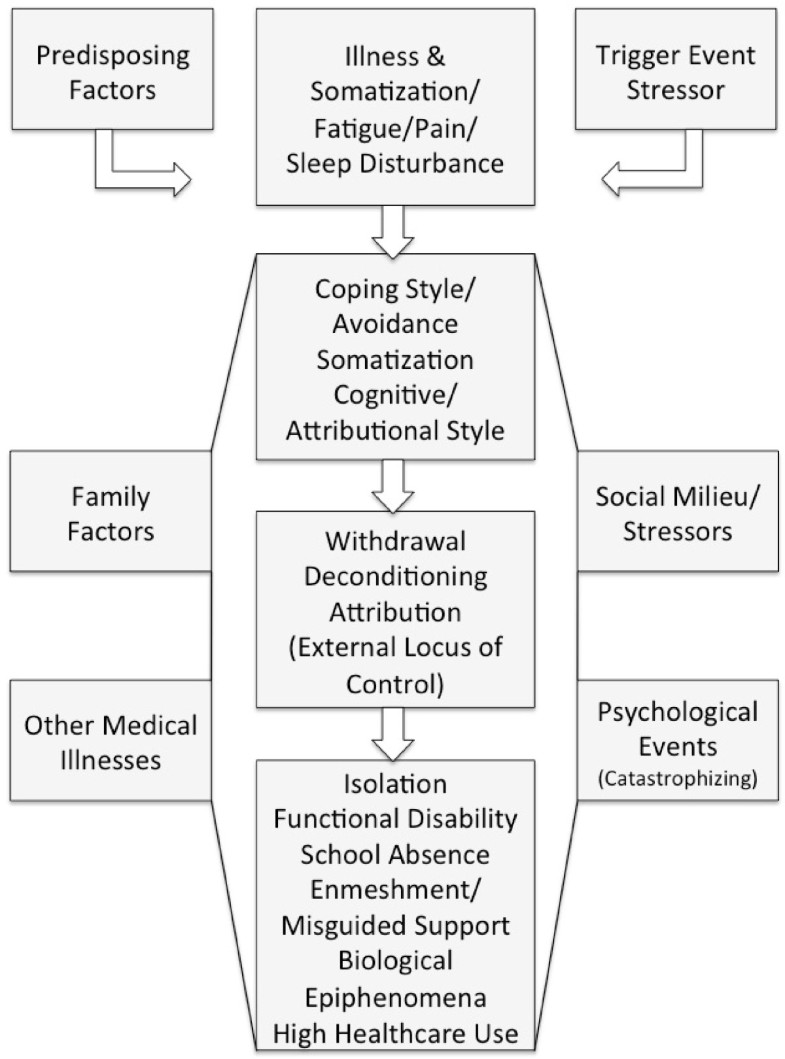 Family factors
Chronic pain has an adverse impact on the overall quality of life for both the child and the family [
16
], leading many to endorse a stress appraisal and coping model in which child disability and family dynamics are a function of the child and family interpretation of symptoms, type of coping employed and parental supportive efforts [
9
,
14
,
17
,
18
]. For some families the child's pain symptoms may play a functional role within family interaction patterns and relationships [
19
–
23
]. More solicitous parental responses to pain behaviors (e.g., caregivers' sympathy, attention to symptoms, emotional reactions, modeling of symptoms, and reinforcement of pain behavior via avoidance of responsibilities) have been associated with greater pain, sick role behavior and functional disability, independent of stress level or pain intensity [
24
–
34
]. In a study of children with chronic functional abdominal pain, when parents attended to symptom complaints, their children exhibited nearly twice as many such complaints [
35
]. Table
1
gives examples of family dynamics that are frequently observed in patients with chronic pain.
Table 1
Family Dynamics Interacting with Pain and Functioning
| Family Dynamic | Description |
| --- | --- |
| Overprotection | Belief that restricting patient from activity is needed for improvement in symptoms. |
| Misguided support | Parental behaviors that either lower expectations or apply excessive pressure for rapid change and improvement in function. |
| Dysfunctional Communication Patterns | Poor conflict resolution, difficulty communicating affect and avoidance of discussing emotionally charged issues. |
| Externalized Attributions | Patient and family attribute both illness and recovery solely to factors outside themselves and often beyond their control. |
| Dependence | Loss of self-confidence due to family members increasingly taking over patient responsibilities and providing assistance that may not necessarily be needed. |
| Social Isolation and Avoidance | Patient becomes anxious and avoidant of normal peer situations. |
Coping, cognitive style and personality factors
For children suffering from painful medical conditions, the level at which they are able to function is influenced by a number of individual and systemic factors including child and family interpretation of pain symptoms, type of coping employed, and parental attempts to support their child's efforts to cope with the pain [15, 17, 18]. Children with chronic pain have been found to possess too few and ineffective coping strategies and portray themselves as having a lack of control over many aspects of their symptoms [36, 37]. Claar, Walker and Smith [38] found pain and functional disability to be more common in pediatric patients with lower perceived competence in academic, social and athletic arenas, and pain-related disability to be reinforced if it allowed the individual to avoid activities at which the child believes him/herself to be ineffective or unsuccessful. Additionally, these children exhibited a tendency towards perfectionism and setting exceedingly high expectations [38]. In contrast, children who employ more active coping strategies report a greater sense of control and display less pain behavior, social withdrawal and functional disability [39, 40]. Negative emotions (anxiety, depression) and poor emotional regulation have been found to be associated with greater functional disability [7, 41–44]. Furthermore, regardless of the perceived pain severity, when children regard their pain to be a serious health-threatening condition and their coping ability to be low, their pain tolerance is lower.
Children with chronic pain have been observed to report greater pain behavior if they exhibit a cognitive pattern of "catastrophizing," i.e., a cognitive style characterized by increased focusing on pain and exaggerated/fearful appraisals of pain symptoms and their consequences. This cognitive style is associated with increased pain severity, lower pain tolerance, greater functional disability, more anxiety and depression, and increased use of analgesics [45, 46]. The presence of learning disabilities, unrealistic goals in a high-achieving perfectionistic child, early pain experiences, a passive or dependent coping style, marital problems in the home, and chronic illness in a parent have been shown to be associated with visceral pain-associated disability [47]. Clinically, patients experiencing significant functional disability associated with pain have been found to manifest some of the following qualities: extreme conscientiousness, obsessiveness, sensitivity and insecurity; anxious with a tendency to set high standards of achievement resulting in placing considerable stress on themselves; family members who may tend to impose high academic and behavioral standards [11, 48].
Sleep
Sleep disturbance is prominent in pediatric patients with chronic conditions, particularly when pain is involved [49–55]. As a result, resolution of sleep disturbances plays an important role in the recovery process [50]. The relationship between pain and sleep is bidirectional, i.e., insufficient or disrupted sleep may increase the level of pain experienced and chronic pain increases the likelihood of sleep disruption [56]. While the mechanism responsible for this relationship is not clearly understood, it may be due to a disrupting effect on emotional regulation, attention and behavioral control which impairs the teen's ability to distract themselves from the pain sensations [56], or to neurophysiological changes that increase pain sensitivity [57, 58]. Disturbances in sleep in children have been shown to be a major contributor to increased pain intensity, decreased health-related quality of life, and decreased functioning [51, 52, 59].
Psychosocial treatment components and approaches
Psychosocial treatments for chronic pediatric pain attempt to address both symptom reduction and management as well as reduce functional disability and improve quality of life. Such interventions are most effective when employed as part of a multidisciplinary and interprofessional team approach that encourages and facilitates open communication between all health care providers and educators, including the primary care physician, medical specialists, physical therapists, teachers, counselors, etc., in order to orchestrate a return to more normal and developmentally appropriate activities. One or more of these specific components may be needed in combination with pharmacological and physical exercise/therapy interventions. The particular individualized approach employed will vary dependent upon such factors as patient history and symptom presentation, response to previous treatments, unique family dynamics, and environmental factors (service availability, insurance coverage, etc.). Such a comprehensive multidisciplinary approach should be strongly considered when symptoms have become protracted and interfere in a major way with the patient's ability to function academically, socially or vocationally. The following is a review of specific psychosocial intervention components that have been developed and applied to these conditions. These have applicability to both child and adolescent patient populations.
Conclusions
Comprehensive treatments for pediatric chronic pain need to include attention to psychosocial factors that are associated with and perpetuate symptom persistence and contribute to functional morbidity. There is a growing body of evidence-based literature supporting interventions based upon cognitive, behavioral, family- and social-systems models in improving patient symptoms, quality of life and overall functioning. Future studies need to further investigate these treatments compared to more standard medical interventions alone, as well as efforts to make these interventions more accessible via such mechanisms as digital and web-based tools [85].
Abbreviations
JFMS:

juvenile fibromyalgia syndrome
CFS:

chronic fatigue syndrome
WPS:

widespread pain syndrome
IBS:

irritable bowel syndrome
RAP:

recurrent abdominal pain
CRPS:

complex regional pain syndrome
RSD:

reflex sympathetic dystrophy
POTS:

postural orthostatic tachycardia syndrome
ALL:

acute lymphocytic leukemia
AML:

acute myeloid leukemia
JRA:

juvenile rheumatoid arthritis
SCD:

sickle cell disease
SLE:

systemic lupus erythematosus
MUS:

medically unexplained pain syndromes
HPA:

hypothalamic-pituitary-adrenal
PADS:

pain-associated disability syndrome
CBT:

cognitive-behavioral therapy
FE:

fibromyalgia educational
ACT:

acceptance and commitment therapy
GE:

graduated exercise
IDEA:

Individuals with Disabilities Education Act
STAIRway:

Structured Tailored Incremental Rehabilitation
CHIRP:

Children's Health and Illness Recovery Program.
Declarations
Acknowledgements
Dr. Carter's research on CHIRP was supported by Grants Number #28-9 and #2011-7, titled, "Characterization and Treatment of Adolescents with Fatiguing and Painful Medical Conditions as seen in CHIRP (Children's Health & Illness Recovery Program)" (Bryan D. Carter, Ph.D., PI) from the James R. Petersdorf Fund of Norton Healthcare, Inc.
Authors' Affiliations
(1)
Division of Child, Adolescent & Family Psychiatry, University of Louisville School of Medicine, Bingham Clinic, Louisville, USA
(2)
Spalding University, Louisville, USA
Copyright
© Carter and Threlkeld; licensee BioMed Central Ltd. 2012
This article is published under license to BioMed Central Ltd. This is an Open Access article distributed under the terms of the Creative Commons Attribution License (http://creativecommons.org/licenses/by/2.0), which permits unrestricted use, distribution, and reproduction in any medium, provided the original work is properly cited.