Network analysis and juvenile idiopathic arthritis (JIA): a new horizon for the understanding of disease pathogenesis and therapeutic target identification
Pediatric Rheumatology
2016
14:40
Received: 5 November 2015
Accepted: 21 March 2016
Published: 2 July 2016
Abstract
Juvenile idiopathic arthritis (JIA) is a clinically diverse and genetically complex autoimmune disease. Currently, there is very limited understanding of the potential underlying mechanisms that result in the range of phenotypes which constitute JIA.
The elucidation of the functional relevance of genetic associations with phenotypic traits is a fundamental problem that hampers the translation of genetic observations to plausible medical interventions. Genome wide association studies, and subsequent fine-mapping studies in JIA patients, have identified many genetic variants associated with disease. Such approaches rely on 'tag' single nucleotide polymorphisms (SNPs). The associated SNPs are rarely functional variants, so the extrapolation of genetic association data to the identification of biologically meaningful findings can be a protracted undertaking. Integrative genomics aims to bridge the gap between genotype and phenotype.
Systems biology, principally through network analysis, is emerging as a valuable way to identify biological pathways of relevance to complex genetic diseases. This review aims to highlight recent findings in systems biology related to JIA in an attempt to assist in the understanding of JIA pathogenesis and therapeutic target identification.
Keywords
Juvenile idiopathic arthritisSystem biologyNetwork analysis
Note: Throughout this review the original terms are used for the patients JIA or JRA as they occurred within the original publications.
Disease networks
Networks of biological interactions involved in disease have been constructed and their properties have been compared to gain insight into the pathogenesis of human disease [28, 29]. A knowledge of the network properties of "disease genes" can inform key aspects when researching complex diseases: it allows for the identification of new disease genes; identifies new drug targets; identifies biomarkers and enhances understanding of the biological significance of disease-associated DNA variations from GWAS or next-generation sequencing studies [28].
Recently, the "human diseasome" has been generated by using network biology and combined datasets of all known disease-gene associations [30, 31]. This has been created on the principle that there is a consistent relationship between disease-causing genes and their products, and developed on a conceptual framework which systematically links all recorded genetic disorders (the "human disease phenome") with the current complete list of known disease-causing genes (the "human disease genome") [31]. From "the human diseasome" it has become apparent that genes contributing to a common disorder exhibit: (i) an increased propensity for their products to co-interact through protein-protein interactions (ii) have a tendency to be co-expressed in specific tissues and (iii) tend to share common cellular and functional characteristics, as annotated in the Gene Ontology [1, 32].
Network analysis and JIA
To date, only a limited number of studies have employed a network analysis component to research involving JIA patients. The contributions each of these has made to further our understanding of JIA pathogenesis is discussed:
JIA – age specific features
The individual subgroups recognized under the JIA umbrella, defined by The International League of Associations for Rheumatology (ILAR) classification, are phenotypically varied.
The typical age of disease onset also depends on subtype (see JIA subtypes, Table
1
). This age-specific variation in disease onset may be critical to understanding disease aetiology and have implications for appropriate treatment strategies.
Table 1
Juvenile idiopathic arthritis subtypes show specific age ranges for disease onset
| Categories | Characteristics | % of total | Onset age | Sex ratio (F:M) |
| --- | --- | --- | --- | --- |
| Systemic onset | Arthritis and daily fever ≥ 3 days, accompanied by at least one of the following: evanescent (non-fixed) erythematosus rash, generalised lymph node enlargement, hepatomegaly or splenomegaly (or both), serositis | 4–17 | Throughout childhood | 1:1 |
| Oligoarticular | Arthritis affecting 1–4 joints during the first 6 months of disease | 27–60 | Early childhood (peak 2–4 years) | 5:1 |
|  Persistent | Arthritis affecting < 4 joints throughout the disease course | 40 | | |
|  Extended | Arthritis affecting > 4 joints after the first 6 months of disease | 20 | | |
| Polyarticular | Arthritis affecting > 5 joints during the first 6 months of disease | | | |
|  Rheumatoid factor positive | Two or more positive tests for rheumatoid factor at least 3 months apart | 2–7 | Late childhood or adolescence (peak 12–14 years) | 3:1 |
|  Rheumatoid factor negative | Tests for rheumatoid factor negative | 11–30 | Early peak 2–4 years and late peak 6–12 years | 3:1 |
| Juvenile psoriatic arthritis | Arthritis and psoriasis, or arthritis and at least 2 of the following: dactylitis, nail pitting or onycholysis, psoriasis in first degree relative | 2–11 | Late childhood or adolescence | 1:0.95 |
| Enthesitis related arthritis | Arthritis and enthesitis, or arthritis or enthesitis with at least 2 of the following: sacroiliac joint tenderness or inflammatory lumosacral pain (or both), HLA-B27 antigen positive, onset in boy over 6 years old, acute anterior uveitis, HLA-B27 associated disease in first degree relative | 1–11 | Early peak 2–4 years and late peak 6–12 years | 1:7 |
| Undifferentiated arthritis | Arthritis that fulfils criteria in no specific category or meets criteria for more than one category | 11–21 | | |
Stevens et al. [36] employed network analysis of GE data and have determined evolutionarily conserved tissue-independent pathways associated with GE and child development in multiple tissues. Specifically, using cells of lymphoid origin from normal children, the expression of 688 genes (ANOVA FDR modified p-value, q < 0.1) was associated with age, and subsets of these genes formed clusters that correlated with the phases of growth: including infancy, childhood, puberty and final height. Network analysis on these clusters identified evolutionarily conserved growth pathways (NOTCH, VEGF, TGFβ, WNT and the glucocorticoid receptor) and the same observations were confirmed in other tissues studied, suggesting the existence of a tissue-independent genetic program for human growth and development. Overall, these findings highlight the existence of age-dependent GE profiles. These are most likely to be relevant to the appropriate selection of genes and pathways as potential biomarkers of disease, or as age appropriate drug targets, in age-related phenotypes, such as JIA.
Barnes et al. also described biological similarities based on age definition in oligoarticular and polyarticular subtypes of JIA [41]. Earlier observations made by Hollenbach et al. [42], which showed that HLA disease associations with DRB1;DQA1;DQB1 haplotypes conferred variable risk according to JIA subgroup and age at disease onset, had been made based on stratification of the JIA patient population by age of disease onset at or after 6 years of age. Utilizing this same age classification, Barnes et al. investigated GE profiles from PBMCs of JIA patients and healthy controls [41]. Principal component based analysis confirmed age at disease onset to be an important characteristic for oligoarticular and RF–ve polyarticular JIA subgroups. The differential GE patterns indicated that pathologic mechanisms differ between patients with early onset (<6 years) disease compared to those with late-onset (≥6 years) disease. This age correlated variability in GE could have important implications for treatment interventions in JIA patients.
Network analysis of age related GE in JIA
We have extended the observations of Hollenbach et al. and of Barnes et al. (Fig.
2
). Specifically, interactome models were generated for the early onset (<6 years) and the late onset (≥6 years) disease age groups for RF-ve polyarticular and oligoarticular JIA [
41
] patients, along with a control group using combined data from Barnes et al. 2010 [
41
] and Stevens et al. 2013 [
36
]. This JIA specific age-related GE was used to determine associated biological pathways which were either specific for RF-ve polyarticular JIA or for oligoarticular JIA (Fig.
2
). For the age group < 6 years, for both these JIA subtypes, biological pathways related to DNA replication and cell cycle were the most statistically significant pathways identified (Fig.
2
), whereas, for the older age group (≥6 years) intracellular signalling pathways, including growth factors and interleukins, were predominant. These findings reveal age-related GE profiles in JIA, strengthening the notion that different pathological processes underlie the age of disease onset and the JIA subgroup that manifests. The relevance of this age-related GE in the successful therapeutic management of JIA needs to be explored.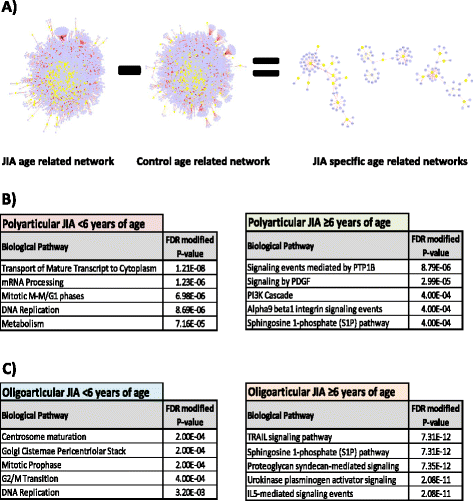 Conclusion
To date there has been limited application of systems biology based approaches to JIA. Where network analysis has been applied to JIA it has supported the identification of specific biological pathways associated with pathology, the identification of markers of response to therapy and also helped with the clarification of the relationship of JIA to other autoimmune diseases. Furthermore, network approaches to transcriptomic datasets from JIA patients has shown a correlation between age and variability in GE that may be critical to our understanding of individual JIA subgroups.
Applying network analysis to JIA, to integrate emerging forms of data from multiple platforms, has the potential to identify key pathways of importance. This in turn can expedite our understanding of disease mechanisms and reveal interactions that should be prioritised for therapeutic benefit.
Abbreviations
ACR, American College of Rheumatology; DAPPLE, The Disease Association Protein-Protein Link Evaluator algorithm; eQTL, expression quantitative trait locus; FDR, false discovery rate; GE, gene expression; GWAS, genome-wide association studies; IFN-γ, interferon gamma; ILAR, The International League of Associations for Rheumatology; IPA, Ingenuity Pathway Analysis; JIA, juvenile idiopathic arthritis; JRA, juvenile rheumatoid arthritis; MEN, minimal essential network; miRNA, MicroRNA; PBMCs, peripheral blood mononuclear cells; PPAR, peroxisome proliferator-activator receptor; PPI, protein-protein interactions; RF, rheumatoid factor; RF-ve, rheumatoid factor negative; SNPs, single nucleotide polymorphisms; TNFα, tumor necrosis factor alpha.
Declarations
Acknowledgements
Chiara De Leonibus is supported by an ESPE Research Fellowship, sponsored by Novo Nordisk A/S.
Authors' contributions
RD and AS conceived the review, its design and coordination and revised the manuscript; RD, CDL, SM and AS wrote and coordinated the initial draft. All authors drafted read and approved the final manuscript.
Competing interests
The authors declare that they have no competing interests.
Open AccessThis article is distributed under the terms of the Creative Commons Attribution 4.0 International License (http://creativecommons.org/licenses/by/4.0/), which permits unrestricted use, distribution, and reproduction in any medium, provided you give appropriate credit to the original author(s) and the source, provide a link to the Creative Commons license, and indicate if changes were made. The Creative Commons Public Domain Dedication waiver (http://creativecommons.org/publicdomain/zero/1.0/) applies to the data made available in this article, unless otherwise stated.
Glossary
Systems Biology
Integration of complex data in biological systems from diverse experimental sources using interdisciplinary tools.
Network Biology
Biology related to interactions between multiple genes and/or proteins.
Network Analysis
Studies the relationship between the structural properties of a network and biological function.
Interactome
Biological network representing a whole set of direct or indirect interactions related to a specific biological function.
Cluster Modularity
Distinct grouping of protein-protein or protein-gene interactions within a network.
Node
A protein or gene positioned within a network.
Hub
A highly connected node within a network.
Node Centrality
Measures the centrality of nodes, with the identification of which nodes are more "central" than others. Degree centrality of a node refers to the number of edges attached to the node.
Network Robustness
It is a mathematical description of how the integrity of a network responds to the random removal of single nodes.
Network Motifs
Recurrent and statistically significant sub-graphs or patterns within a network.
Network Alignment and Comparison
Used to describe similarities between independent networks.
Authors' Affiliations
(1)
Musculoskeletal Research Group, The Centre For Musculoskeletal Research, University of Manchester, Manchester, UK
(2)
Manchester Academic Health Sciences Centre, Institute for Human Development, Royal Manchester Children's Hospital, Manchester, UK
(3)
Stem Cell and Leukaemia Proteomics Laboratory, School of Cancer and Imaging Sciences, University of Manchester, Manchester, UK