Policy challenges for the pediatric rheumatology workforce: Part II. Health care system delivery and workforce supply
Pediatric Rheumatology
2011
9:24
Received: 1 August 2011
Accepted: 15 August 2011
Published: 15 August 2011
Abstract
The United States pediatric population with chronic health conditions is expanding. Currently, this demographic comprises 12-18% of the American child and youth population. Affected children often receive fragmented, uncoordinated care. Overall, the American health care delivery system produces modest outcomes for this population. Poor, uninsured and minority children may be at increased risk for inferior coordination of services. Further, the United States health care delivery system is primarily organized for the diagnosis and treatment of acute conditions. For pediatric patients with chronic health conditions, the typical acute problem-oriented visit actually serves as a barrier to care. The biomedical model of patient education prevails, characterized by unilateral transfer of medical information. However, the evidence basis for improvement in disease outcomes supports the use of the chronic care model, initially proposed by Dr. Edward Wagner. Six inter-related elements distinguish the success of the chronic care model, which include self-management support and care coordination by a prepared, proactive team.
United States health care lacks a coherent policy direction for the management of high cost chronic conditions, including rheumatic diseases. A fundamental restructure of United States health care delivery must urgently occur which places the patient at the center of care. For the pediatric rheumatology workforce, reimbursement policies and the actions of health plans and insurers are consistent barriers to chronic disease improvement. United States reimbursement policy and overall fragmentation of health care services pose specific challenges for widespread implementation of the chronic care model. Team-based multidisciplinary care, care coordination and self-management are integral to improve outcomes.
Pediatric rheumatology demand in the United States far exceeds available workforce supply. This article reviews the career choice decision-making process at each medical trainee level to determine best recruitment strategies. Educational debt is an unexpectedly minor determinant for pediatric residents and subspecialty fellows. A two-year fellowship training option may retain the mandatory scholarship component and attract an increasing number of candidate trainees. Diversity, work-life balance, scheduling flexibility to accommodate part-time employment, and reform of conditions for academic promotion all need to be addressed to ensure future growth of the pediatric rheumatology workforce.
Keywords
pediatric rheumatology
pediatric subspecialty
policy
workforce
Background
For children with rheumatic conditions, the available pediatric rheumatology (PR) workforce in any country mitigates their access to care. While the subspecialty experiences steady growth, a critical workforce shortage constrains access. A central mission of the PR workforce is to provide children with access to care and superior clinical outcomes. Part I detailed the unique pattern of challenges facing the PR workforce resulting from obsolete, limited or unavailable exposure to PR. Acting synergistically, the first barrier comprises three challenges. These are: a) absent or inadequate recognition or awareness of rheumatic disease by primary care providers, patients and their families; b) referral patterns that commonly foster delays in timely diagnosis; and c) primary care providers' inappropriate or outdated perception of outcomes. The second major barrier facing the PR workforce is the combined adverse effect of market competition, inadequate reimbursement and uneven institutional support. This barrier fosters a proliferation of varying models of PR care delivery. Generally, these versions of care delivery do not effectively improve clinical outcomes in a reliable, planned manner of longitudinal care.
Part II of this three-part review explores two additional national barriers and potential policy solutions for the United States (US) PR workforce. The third and fourth barriers are: 3) compromised quality of care due to current health system delivery, with limited patient access to self-management programs and multidisciplinary team care; and 4) an insufficient workforce supply available to meet the current demand.
Barrier 3: Compromised Quality of Care Due to Current Health System Delivery, with Limited Patient Access to Self-Management Programs and Multidisciplinary Team Care
The Institute of Medicine identified health care quality deficiency in its landmark report Crossing the Quality Chasm. This report attributed the gap in quality to a fundamental problem in health system delivery design. The health care of adults with chronic illness continues to be a major health policy issue because of the mediocre quality of care [1]. In the US, approximately 40% of patients do not receive adequate health care once a chronic condition becomes apparent [2]. Of the care provided, 20% is clinically inappropriate [3]. Deficits in clinical quality and rising patient, provider and policymaker dissatisfaction reflect the mismatch between enduring needs of patients with chronic health conditions and a health care delivery system principally organized for the diagnosis and treatment of acute conditions [4–6]. Quality has further suffered due to a combination of the system's inability to meet demands for medical care due to both poor organization of health care delivery and constrained access to information technology. Rapid increases in chronic disease prevalence and technological complexity stemming from scientific advances have created these escalating demands. Since system design is the focus of needed change, trying harder with the current system will not achieve improvements [2]. The desire for an easy solution to rising costs and poor quality in US health care has partially limited understanding the vital role of care redesign in improving health outcomes [4]. Quality improvement must generate evidence regarding system redesign that produces better care and methods to achieve such transformation than is currently practiced [7].
Chronic health conditions essentially present a common set of challenges to patients and their families. All involve coping with symptoms, disability, emotional effects, demanding lifestyle changes, and the need to obtain effective medical care, often accompanied by complex treatment regimens. Care received frequently fails to deliver best clinical practices. In the biomedical model, providers possess the knowledge and they are accountable for the patient's health. Patient education occurs unilaterally. Current care complexity frequently leaves patients unable to know how to perform self-care after they leave the clinic. Poorly coordinated care, especially for patients with chronic health conditions, often leads to medical errors, higher costs and unnecessary pain [8].
Wagner developed the chronic care model (CCM), depicted in Figure
1
, based on clinical experience and medical evidence to promote improvements in the care of patients with chronic illnesses [
9
]. Its aim is to transform care delivery from acute and reactive to anticipatory and population-based. Specifically, six inter-related system changes of the CCM intend to achieve patient-centered, evidence-based care. These changes involve a combination of effective team care and planned interactions; self-management support; strengthened, effective use of community resources; integrated decision support; patient registries; and supportive information technology [
10
]. The CCM incorporates productive interactions between organized, proactive practice teams and well-informed motivated patients. Standards of care and treatment aims are clear and evidence-based. Care management links to a patient registry which collects data, schedules care, creates reminders, and supplies data to providers regarding patients' attainment of quality indicators. Self-management education, shared goal-setting, links to community organizations, and written care plans support patients and families [
9
]. Effective teams experiment with tests of change affecting system improvement. In turn, systematic changes affect care processes for individual patients and ultimately for patient outcomes.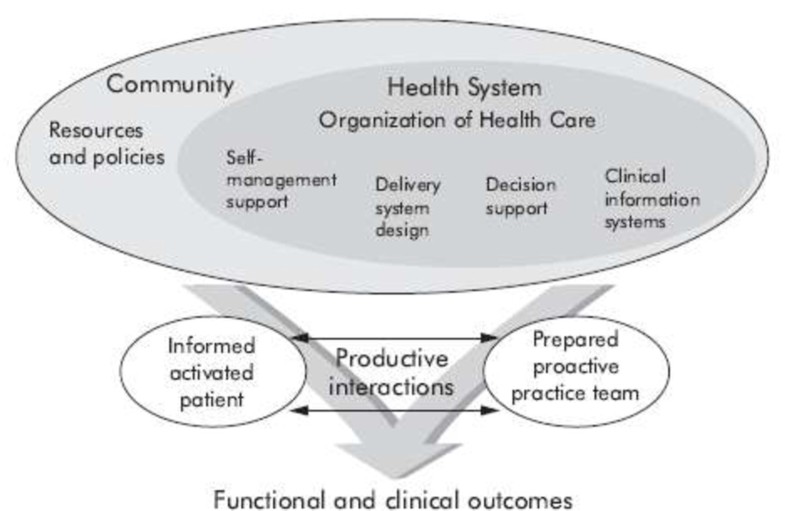 US reimbursement policy (outlined in Part I, Barrier 2) and overall fragmentation of health care services pose particular challenges for widespread implementation of the CCM. There is also a lack of coherent policy direction for the management of high cost chronic diseases in US health care [3]. Musculoskeletal disorders rank third among the most costly diseases; 78% of their total cost is due to indirect costs [11]. Recommended services and modes of delivery of the CCM are poorly reimbursed or non-reimbursed in most fee-for-service plans. The combined effects of unsupportive reimbursement, a doubtful business case, and the additional effort required by busy practices all limit comprehensive fulfillment of the CCM, except by very large networks or institutions. Reimbursement policies and the actions of health plans and insurers are the most consistent barrier to chronic disease improvement [7]. Current fee-for-service reimbursement policies, especially involving the Centers for Medicare and Medicaid Services, are most problematic for the provision of non-visit methods of care interaction, self-management support and group interactions. Such policies persist despite very substantial evidence of the efficacy and efficiency of these care delivery methods. Extensive adoption of the CCM in the US will require broad-based political, financial and community support.
Self-management programs are designed to improve the self-care of individuals with chronic health conditions. Established programs are multi-component and integrate information about chronic disease. Additional features of self-management include an overview of its principles, motivational interviewing techniques, cognitive symptom management, coping strategies for negative feelings, behavioral contracts with action planning, and effective communication with family and clinical providers. The self-management intervention aims to develop a patient's perceived capacity to control a number of disease features. This is accomplished by improving self-efficacy through skill mastery, modeling, persuasive communication and reinterpretation of symptoms [12].
Children and youth with chronic health conditions are particularly vulnerable to fragmented, uncoordinated care [13]. This demographic comprises 12-18% of the US pediatric population [14, 15]. These children typically have far more unmet needs related to important medical services than do the majority of children [16]. Consequently, children with special health care needs likely receive less than best possible care. Poor, uninsured and minority children may be at a heightened risk for inferior coordination of services [17, 18].
The PR workforce strives to provide chronic rheumatic disease care in a delivery system characterized by these numerous barriers to effective longitudinal treatment. Self-management is uncommonly employed in PR practices. As an element of the CCM, the multidisciplinary team's role is well-established in improving outcomes for patients with chronic health conditions. In rheumatic diseases, one observational study and another randomized controlled trial in adult patients with rheumatoid arthritis involved multidisciplinary care teams. Both studies indicated treatment effectiveness for the team approach [19, 20]. A proof-of-concept, randomized controlled trial in adult patients with systemic sclerosis indicated effective treatment for several outcome measures involving overall physical health compared to regular outpatient care [21].
Nevertheless, many PR clinicians remain either unconvinced of the need for a team approach to chronic disease care, or their work setting is unsupportive. The stated primary rationale for this lack of support is typically financial. In turn, this underscores currently unsupportive, fee-for-service reimbursement policy for chronic disease care providers. The impact remains greatest for the children with chronic conditions. In the US health care delivery system, health outcomes and quality of care unfortunately remain mediocre.
Solution 3: Implementation and Extension of the Chronic Care Model
Modern chronic illness care requires productive interactions between the practice team, patient and her/his family. Along with clinical care, such interactions must involve behavioral strategies which empower patients and families to become confident, effective and skilled in self-managing their chronic diseases. The typical acute problem-oriented visit actually serves as a barrier to care [7]. Instead, high-quality chronic disease care consistently provides the quality measures, self-management guidance, evidence-based clinical practice standards and follow-up associated with best outcomes. Interventions using self-management strategies for chronic illness indicate efficacy for the functional health domains of general health, physical function, bodily pain and mental health. Some studies have shown that the self-management program strategy alone is highly cost-effective in individuals with arthritis [12]. In addition to its economic advantage, self-management has great potential when combined with other system changes to improve outcomes.
For thousands of patients with chronic illness, time-intensive collaborative interventions applying the CCM within health care systems have established persuasive evidence, including a Cochrane Collaboration review, for process quality improvement and enhanced outcomes [9, 22, 23]. Coleman, et al conducted a systematic review of chronic care intervention evaluation studies. This review included only those studies containing all six elements of the CCM. Of the 56 identified studies meeting inclusion criteria, nearly 95% reported significant improvement in at least one measured outcome. Practice changes involving an increase in providers' skills and expertise, registry-based information, patient self-management support and education, and team-centered and planned care delivery led to the greatest improvements in health outcomes [10].
Fundamentally, the CCM is not a separate, immediately reproducible intervention. Rather, it is a structure within which organizations delivering care can translate general ideas for change into specific, often locally distinctive applications [10]. The CCM is "a synthesis of the best available evidence, intended to be flexible and subject to change when new evidence emerges [7]."
Fee-for-service reimbursement for pediatric chronic condition care is a hindrance to tests of change regarding personnel, visit organization or follow-up. However, small, adult medicine practices that primarily generate revenue from fee-for-service payments can achieve comprehensive system changes and demonstrate improvements in care [7]. Evidence shows that small systems perform as well as large ones in adult medicine.
Face-to-face visits are not an inevitable requirement of chronic illness care. Sufficient evidence confirms the effectiveness of using the computer or telephone for this purpose [24]. The Institute of Medicine's report encouraged increasing methods of interaction other than face-to-face visits [25]. For example, telephone contact allows for intensive, cost-effective follow-up of chronically ill patients [7]. In a variety of chronic diseases, improved outcomes associate with telephone communication [24]. Generally, current policy for fee-for-service reimbursement is not to pay for alternative methods of care coordination.
Delivery system design evidence supports multidisciplinary care visits (a.k.a., "one-stop shopping"). This design promotes access to medical and allied health services [7]. Team-based care facilitates care coordination, which reciprocally supports the health care team. Effective care coordination is best provided in the context of a real or virtual team [26]. Antonelli, et al define pediatric care coordination as "a patient- and family-centered, assessment-driven, team-based activity designed to meet the needs of children and youth while enhancing the caregiving capabilities of families. Care coordination addresses interrelated medical, social, developmental, behavioral, educational, and financial needs in order to achieve optimal health and wellness outcomes [27]."
Excellent pediatric care coordination supports and relies on team care. It reliably provides patient/family education to develop self-management skills, and plans for the transition from pediatric to adult systems of care. Among several best practice features, this level of pediatric care coordination 1) supports planned longitudinal care, 2) confers skills to families to navigate a complex health care system, and 3) ensures effective communication and collaboration along the continuum of care. These competencies need to be held individually or collectively by all clinicians, nurses, social workers, and allied health care professionals engaged as a team to support families. Such competencies should also continue to non-health professionals providing care coordination services. Under certain circumstances, subspecialty providers may serve as a medical home [27].
The monumental challenge facing care coordination is the urgent need to place the patient at the center of care, which represents a fundamental restructure of US health care. For care coordination to be done properly, necessary changes in care delivery and financing must occur. This effort's scope exceeds quality improvement work since it surpasses the boundary of a single institution or organization [8]. To realize and extend improved quality of care and best outcomes, the PR workforce will need to embrace and integrate the chronic care model into practice delivery. Specifically, self-management support should be developed in PR practices nationwide. As well, multidisciplinary team care should be established at PR practices as an evidence-based means of achieving effective care coordination. Self-management and care coordination by a proactive, prepared team are essential elements of modern health care system delivery for pediatric patients with chronic conditions. A final barrier which must be overcome to achieve this new care delivery system is the insufficient supply of available PR workforce to meet the current clinical need.
Barrier 4: Insufficient Workforce Supply to Meet Demand
Solution #4: Fundamental Needs of the Next Generation
Two-year Fellowship Option
A 2007 survey of 755 pediatric subspecialty fellows indicated a majority (64%) would not shorten their general pediatrics residency if they could. However, 52% would choose a 2-year fellowship over the current 3-year format [40]. Institutionalized over two decades ago, the 3-year fellowship sets pediatric subspecialty training apart from many internal medicine subspecialties [74, 75]. The American Academy of Pediatrics Section of Rheumatology conducted an online survey in 2006 of its then 148 members, asking if they would support a 2-year fellowship that preserved the mandatory scholarly activity component. Of the 90 respondents (61% response rate), a solid majority (70%) supported this proposal [76]. The majority's desire to shorten fellowship training should generate a careful discussion regarding the skills necessary for a PR [40]. This is especially prompted by the existing critical workforce shortage.
The ABP's R3P project examined residency content and length in view of evolving pediatric practice and workforce needs [77]. The R3P project proposed a continuous improvement approach, i.e., a method of continuous evaluation and innovation, to system-wide change rather than specific recommendations [78]. The project promoted innovative solutions through a developing partnership with the Residency Review Committee for Pediatrics. By way of decentralization, the Initiative for Innovation in Pediatric Education (IIPE), the implementation entity for R3P's goals, avails training programs with a selection of strategies for change at the program level. IIPE is funded by the Federation of Pediatric Organizations [79]. These strategies capitalize on situation-specific opportunities and, ideally, supportive hospital partners. Similarly, review of PR fellowship content and duration would benefit from the continuous improvement process, seeking innovate strategies such as the 2-year training option.
The ABP set a precedent by adopting the alternate pathways listed in Table
3
for residency training to adapt to the needs of those pursuing careers in basic research [
80
]. ABP leadership reasoned that such candidates benefit from less clinical training and more research training than required in the standard pathway. These candidates nonetheless become board eligible as general pediatricians, equivalent in every respect to those with 50% more clinical training. The ABP recently eliminated the Special Alternative Pathway. Those pediatric residents first entering their training in 2010 were the last group eligible to petition for this pathway.
Table 3
Available Fellowship Alternatives Approved by the American Board of Pediatrics [80]
| | Alternative Training Pathway |
| --- | --- |
| 1 | Subspecialty Fast-tracking Pathway (for those with a PhD degree or similar research accomplishment) |
| 2 | Accelerated Research Pathway (for physician scientists) |
| 3 | Integrated Research Pathway (completion of a PhD is a prerequisite) |
| 4 | Dual and Combined Subspecialty Training Pathways (this requires an Internal Medicine/Pediatrics residency) |
In comparison to such alternate pathways, a policy proposing a pathway that does not shorten clinical training and does not remove any other requirements for fellowship training, specifically the requirement for scholarly activity, should be considered equally valid. The attractiveness of PR may be constrained by the assumption that training currently requires a 3-year fellowship. Pediatric residents interested in pursuing a clinically-focused track may find the additional year unappealing. Thirty-seven percent of generalists five years post-residency were more likely to choose a subspecialty if combined residency and subspecialty training were five years instead of six [81]. If this substantial proportion pursues abbreviated subspecialty training, a potential, unintended consequence of offering a 2-year fellowship would be a decrease in available general pediatricians.
Career choices of internal medicine residency graduates' demonstrated this trend in the past decade. However, AMG internal medicine residents with substantial educational debt ($100,000 - $150,000) are more likely than those without debt to pursue subspecialty training [82–84]. Since very few pediatric residents make their career choices based on educational debt, a proportionate rise in pediatric subspecialty fellows will likely be motivated by residents' academic interests.
The necessity of a 3-year fellowship for producing excellent clinicians has never been established by any rigorous scientific method. The justification has been historical precedent and consensus. Proponents assume three years is a reasonable, minimal training period for a research-oriented academic physician [85]. This is an educational policy decision that was made with the best intentions, but without substantive data on the educational outcomes. The mandate of current training periods should be established on the strength of data, not assumption [56].
The scholarship component of a 2-year fellowship will remain the most considerable programmatic hurdle. Nevertheless, this requirement could be accomplished while maintaining the requirements for ABP subspecialty certification. The ABP's Scholarship Oversight Committee determines whether a specific scholarly activity is appropriate for the current guidelines. The likely research participation would be a clinical project. This would need to begin early in the first year to bring the research endeavor to conclusion within a 2-year fellowship. In this scenario, the scholarly activity work product is consistent with the ABP's three fulfillment options. These are: 1) a progress report for a project of exceptional complexity, such as a multi-year clinical trial, 2) an in-depth manuscript describing a completed project, or 3) a thesis/dissertation written in conjunction with the pursuit of an advanced degree (e.g., MS or MPH). Other acceptable activities could be accomplished within the proposed alternative pathway 2-year fellowship experience. These include critical meta-analysis of the literature, systematic review of clinical practice, a critical analysis of public policy relevant to PR, or a curricular project with an assessment component. A biomedical research activity could not be confidently completed within this particular model, nor would such an activity be fully addressed in this interval. Programs offering either a 2 or 3-year fellowship could promote the development of training models for 1) Clinician Educators, 2) Public Policy programs in PR, and 3) Master Clinicians.
Parent and Diversity Issues in Academia
Although universities are responding to demographic and cultural changes, academic medicine has been slower to adapt to its workforce's compelling need for schedule flexibility, including part-time workers, and diversification. The gender composition of PR is increasingly female. Women constitute over 60% of pediatric residents and 57% of PRs, including 67% under 40 years of age and 71% of fellows [28, 33]. Co-parenting and the rising majority proportion of women are new realities without precedent in previous decades [32]. Policy should address the necessary national advocacy that can improve funding for young researchers and clinician educators. While raising families, this new workforce sector needs institutional support, encouragement and creative scheduling solutions to foster productivity. Fellowships need to accommodate training options and provide an early focus on work-life balance. Academic programs will need to reform promotion requirements. Parents of both genders need part-time practice options that appropriately address benefits and call responsibilities [39].
PR must also attract minority physicians to its homogenous workforce which is 95% Caucasian [33]. Academic centers must establish formal programs to provide role models and encouragement to minority pediatric residents to pursue fellowship training, since only 1% of underserved minority residents do so [57]. Of first-time applicants to the ABP's 2009 PR certification examination (n = 35), 77% anticipate a career in academic medicine. There is a sustained necessity for academia to address the evolving PR workforce's needs.
Summary of Policy Recommendations
The recent authorization of federally-subsidized pediatric subspecialty loan repayment programs may not successfully increase the PR workforce. PR fellows' primary motivation is to pursue careers involving a specific disease or population, although trainees may self-select low-compensation specialties. Studies note that only 1% of pediatric subspecialty fellows cite loan repayment as an important factor in their career choice decision. Medical students who pursue lower-compensation pediatric subspecialties often defer a subspecialty focus decision until residency. These students are an important constituency for PR to reach through introduction to the subspecialty, e.g., via research projects. Since the majority of pediatric residents make their fellowship decision early in their final year, 3rd year residents likely represent a low recruitment source. Rather, recruitment strategies should target 1st & 2nd year pediatric residents, as well as medical students.
Policy solutions need to maximize the efficiency of currently available resources nationwide. Additionally, legislative reform of current reimbursement policy which acknowledges the many non-reimbursed aspects of chronic care is imperative. Proposed policy solutions entail:
1. Widespread implementation of the chronic care model, including self-management support, that leads to improved health care system delivery
2. Increasing providers' motivational interviewing skills and expertise through self-management training programs
3. Practice changes that involve registry-based patient information, patient self-management support and education, patient/family-centered care, and team-based, planned care delivery
4. Increasing methods of provider-patient interaction other than face-to-face visits, e.g., telephone, e-mail, and telemedicine communication
5. Reimbursement reform which attends to these alternative methods of care coordination
6. Delivery system design which provides multidisciplinary team care during clinic visits
7. Offering a 2-year fellowship option that preserves the scholarship component, while establishing the evidence basis for the current 3-year duration requirement
8. Diversifying the workforce through emphasis on underserved minorities
9. Flexible scheduling to accommodate an increasing proportion of part time providers
10. Academic promotion requirement reform.
Conclusions
The US health care delivery system is principally organized for the diagnosis and treatment of acute conditions. This system currently delivers mediocre quality of care to patients with chronic disease, abounding with inadequate, inappropriate and poorly coordinated care. Wagner's chronic care model (CCM) is an evidence-based means of transforming care delivery which is patient-centered. System changes involve a combination of effective team care and planned interactions; self-management support; strengthened, effective use of community resources; integrated decision support; patient registries; and supportive information technology. Tests of change produce system improvements. In turn, systematic changes affect care processes for individual patients and ultimately for patient outcomes. Prepared, proactive teams, coordinated care, the use of evidence-based clinical practice standards and self-management education are vital elements of appropriate, high quality processes of chronic care delivery. This approach offers substantial economic advantages with the potential to reduce US total health expenditures. Delivery system design evidence supports a multidisciplinary team approach of coordinating such complex care.
Fee-for-service reimbursement policy and overall fragmentation of US health care services hinder widespread implementation of the CCM. Children with chronic conditions are particularly susceptible to fragmented, uncoordinated care. For poor, uninsured and minority children, this effect amplifies. In the US, broad-based political, financial and community support will be required for extensive adoption of CCM. Persistent reimbursement disparities require legislative reform.
In the meantime, the demand for PR clinical services outstrips available workforce supply. The US needs a 30% minimum increase of its existing PR workforce to meet clinical demand [29]. Career decision studies of US medical trainees indicate specific determinants and timing. A subset of medical students makes career decisions based on educational debt. Generally, students who choose fellowship training do not decide on a topic focus during medical school, with the exception of high compensation subspecialties. While there is a potential for self-selection bias, residents pursuing low compensation pediatric subspecialties are motivated principally by a specific disease or patient population, especially male 1st year and female 2nd year residents. The majority of pediatric residents reach a decision about subspecialty focus early in the third year of residency. Beyond this period, third year residents likely represent a low recruitment source. Recruitment to PR may improve with acceptance of a 2-year fellowship option. The current requirement for 3-year fellowship duration is the result of consensus, not evidence basis. Diversity, work-life balance, scheduling flexibility to accommodate part-time employment, and reform of conditions for academic promotion all need to be addressed to ensure future growth of the PR workforce. There is a compelling need and institutional training program responsibility to diversify the PR workforce regarding part-time capacity and minority representations. Improvements in work-life balance and new roles involving equally shared parenting call for innovation in academic promotion requirements. Expansion of the PR workforce is a strategic imperative to alleviate the persistent problems of constrained access to care.
Abbreviations
ABP:

American Board of Pediatrics
ACR:

American College of Rheumatology
AMG:

American medical graduate
CCM:

Chronic Care Model
IIPE:

Initiative for Innovation in Pediatric Education
IMG:

International medical graduate
NHSC:

National Health Service Corps
NIH:

National Institutes of Health
NRSA:

National Research Service Award
PR:

pediatric rheumatology/rheumatologist
R3P:

Residency Review and Redesign in Pediatrics
US:

United States.
Declarations
Acknowledgements/Funding
none.
Authors' Affiliations
(1)
Division of Rheumatology, MLC 4010, Cincinnati Children's Hospital Medical Center, Cincinnati, USA
Copyright
© Henrickson; licensee BioMed Central Ltd. 2011
This article is published under license to BioMed Central Ltd. This is an Open Access article distributed under the terms of the Creative Commons Attribution License (http://creativecommons.org/licenses/by/2.0), which permits unrestricted use, distribution, and reproduction in any medium, provided the original work is properly cited.